Six Things Contractors Need to Know When Buying Software
Selecting a business software management system is not something you want to change every year, or even every few years. You are not just choosing a software, you are choosing a long-term partner, creating a long-term business relationship and identifying a tool to help run your business.
For businesses to grow revenue, track expenses, manage labor, inventory and subcontractors, increase the accuracy of the bidding process, better serve customers and maximize their fullest potential, they need to select software that aligns with how their business operates and choose a software that seamlessly fits in and supports their efforts.
Let's be honest. The selection process is not something that can be done on the side or when you have a few hours to spare. To maximize what will be a significant investment of time, people resources and money, you need to do your homework.
When It's Time For New Software
How do you know your company is ready to switch to a new software system or make that initial investment?
If you feel you could be more productive or efficient with new software, it's time to consider other options. Assessing your current setup is a good place to start. It's important not to accept that your current setup is always 'the way it should be' just because you are used to it. Being open-minded will bring new opportunities that will boost your business performance.
Six Things to Consider When Selecting Software
Once you've made the decision to make a change or invest in software for this first time, there are several questions you need to consider as you research your options, according to Jarret Pitchford, onboarding specialist for The Integra Group, makers of the BOSS management software.
Does your company currently have a culture of checks and balances? For example, do you have a regimented process for purchasing or inventory or do people just buy what they need, when they need it, and figure the rest out later? The same goes for tracking labor costs. When you are working on multiple projects at one time and shifting crew members around due to labor shortages, do you really have an accurate picture of your true labor costs down to the per job level?
Do you currently like the way your company estimates jobs? If not, how, specifically, do you want to change that process and what do you want to achieve with the change?
Do you want to switch to verifiable takeoff data (i.e., how many acres to mow, liner feet to edge, bed square footage to apply mulch, etc.) vs. instinct and experience? Do you have time studies in place you can use in the estimating process to gather the verifiable data needed to improve the accuracy of your estimates?
Look around at your operation ask the question, 'Does your company embrace technology?' Is this going to be just another piece of technology that your company will readily adopt and use to its fullest, or will your team think you're trying to move from a bass boat to an aircraft carrier? If your team is anti-tech, this will be an uphill and costly battle.
Are you ready to lead? The most successful software deployments take place in companies where the owner takes the lead, embraces the deployment, is involved in the process and shows enthusiasm for this change. Your employees will follow your lead.
Can your software grow with you? Switching software can be a major process. If you choose the right partner from the start, you can eliminate the need to change multiple times. It is much better to have a software partner that can adapt to your business as it goes through many stages of growth.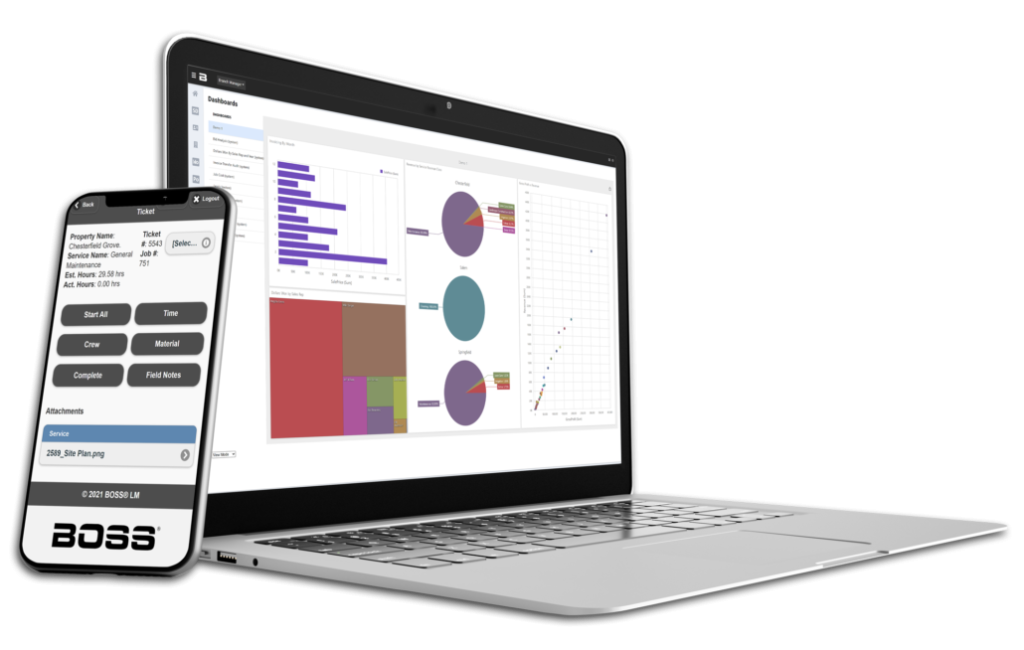 Be the BOSS of Your Business
BOSS consolidates ALL the aspects of your landscape, landscape construction, lawn care or snow management business into a single cloud-based solution available anytime, anywhere. Learn how BOSS can deliver return on your investment that will provide smoother internal processes to help your team provide exceptional customer service.
0
0
The Integra Group
https://ek4n9d2iddd.exactdn.com/wp-content/uploads/2020/11/The-Integra-Group_Full-Color-Logo.png
The Integra Group
2022-02-23 19:45:53
2022-02-23 19:45:53
Six Things Contractors Need to Know When Buying Software