How Software Helps Grow Your Business
Owners of landscape and snow removal companies often enter the industry for the love of the work and the gratification of providing excellent service. Nothing beats the satisfaction of exceeding customer expectations, generating leads, building pride within the employee ranks, and ultimately growing the business.
But with growth comes the challenge of maintaining all the early momentum that gets you there in the first place. How can you manage customer relationships and expectations as you take on more clients? How do you manage and control the flow of new business opportunities and the proposals that come with that growth? How will you manage and track labor and material costs to ensure maximum efficiency? And at the end of the day, by what measures will you determine whether your business is successful?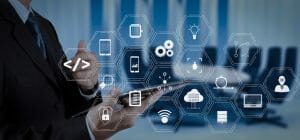 Building a Better Business With Software
Small business owners in almost every industry face the same predicaments, and often aren't at liberty to bring on additional management assistance to fill gaps that open as a business grows. One option that many entrepreneurs turn to is the addition of a business management software system that addresses key pain points and provides automated solutions.
A business management software solution provides a structured model and defined processes to streamline operations. This helps the business run like clockwork without having to hire additional staff or overburden current staff with repetitive, time-consuming tasks.
The benefits of investing in the right software solution for your operation are significant, according to small business resource websites such as  AllBusiness and Small Business Trends. They each identify small business challenges that that the right software package can help you to tackle the following:  
Customer Relationships – The right software package will not only allow you to manage existing customers more effectively, but also to mine new business from prospective clients. Software can provide a depth of knowledge about prospects that allows you segregate them and make the best possible decisions on strategic marketing, including targeted, timed, and fully tracked email communication.
Simplifying Employee Tasks – Something as simple as tracking employee timesheets using a time-tracking tool within a software system not only makes the process easier for employees – managers can view, retain, and track employee activity to monitor efficiency and streamline payroll. Also, many software packages take advantage of mobile phones and cloud computing, allowing account and customer information to be accessible from almost anywhere. 
Creating Estimates and Invoices – Using software for creating accurate estimates and invoices eliminates stress and reduces errors by minimizing the possibility of human error and ensuring consistency across customers. An integrated system tying financials to customer records makes real-time invoicing a reality, and a more advanced software system will compile this information to provide insights into the popularity and profitability of services, as well as the financial trajectory of the business. 
Creating and Tracking Projects – The right software package will allow you to monitor the status of projects from start to finish. It will also help you track material usage, so you don't cut into your profit margins. By tying together all the key business information in one place, the everything from scope to cost to final invoice are created and delivered without errors, surprises, or drama. 
These are some of the most basic benefits of bringing on a software package to your business. Deeper and more significant benefits can be mined from software systems that are targeted to your area of business and tuned to the way you want to run your operation. And your level of commitment to extracting value from the software is also critical.
Key Takeaway
Once you determine your company's specific needs and goals, then use the software to help support your efforts to achieve them. A good software solution also helps position a company for an acquisition as there is more clarity and consistency to financial reporting. Having the correct software in place will save you both time and resources, two things that can be reinvested in seeking new opportunities for growing your business and people.
The BOSS® Difference
BOSS' in-depth knowledge of software and the needs of professional landscape and snow removal contractors makes it the number one choice for businesses searching for a complete software solution. Call 866/596-5971 or request a free consultation today.
0
0
Chris.Darnell@bosslm.com
https://ek4n9d2iddd.exactdn.com/wp-content/uploads/2020/11/The-Integra-Group_Full-Color-Logo.png
Chris.Darnell@bosslm.com
2022-08-23 19:25:36
2022-08-23 19:25:36
How Software Helps Grow Your Business