BOSS® Announces Winners of the 2022 Elevation Awards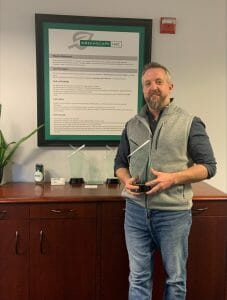 St. Louis, MO (February 9, 2023) – The Integra Group, the innovative force behind BOSS Software the landscape industry's original enterprise business management software, announces the winners of the 2022 BOSS Elevation Awards.
The BOSS Elevation Awards are given annually to users who have taken their knowledge of the industry-leading software to the next level to manage their businesses more efficiently and profitably.
For the third time, Greenscape Land Design, Inc. of Raynham, Massachusetts has earned the BOSS Elevation Award for producing the best BOSS Scorecard Report. The report audits a BOSS user's performance in deploying as many system features and functionalities as possible in their operations, as well as maintaining the cleanest data.
A BOSS user since 2015, Greenscape credits the software with helping increase the company's gross profit margin some 14 points over this span by allowing the company to easily segment data to measure against its KPIs, and more effectively communicate those results with their team and customers.
"Our team takes great pride in how we use BOSS Software to help make important day-to-day business decisions that drive our growth and allow us to better serve clients," says Nate Patnaude, vice president of Greenscape. "We've us the data in Boss to make day to day , and year to year business decisions, and we work hard to maintain the integrity of that data so that it is reliable and accurate."
Nashville-based Gardens of Babylon – a BOSS user for 12 years – was named the BOSS Fast Track Award for achieving the highest revenue growth. Owner Marcus Kerske credits BOSS with enabling his company to better manage the details that come with a sharp increase in sales – 35 percent since 2020 – it experienced over the last two years.
"BOSS has become the backbone of our landscape division and has allowed us to make sure we are more accurately tracking job costing, material usage and labor hours," said Kerske. "We have been able to create processes, including generating valuable reports, in one centralized software to support our growth."
BOSS Software is recognized for its adaptability and ability to tailor programs to meet the ever-expanding needs of companies. BOSS stands alone when it comes to delivering return-on-investment and unmatched levels of client service and support.
BOSS is designed to solve shared challenges and barriers to growth for business owners in multiple field service markets including landscape construction, landscape maintenance, snow removal services, interior maintenance and cleaning.
Learn how BOSS can help you grow your business or request a consultation.
About The Integra Group
Founded in 1999, The Integra Group provides cloud-based solutions and custom software consulting services throughout the U.S., England, Canada, and Australia. BOSS industry-specific solutions are mission-critical business management services that are enterprise-wide in scope.
0
0
Chris.Darnell@bosslm.com
https://ek4n9d2iddd.exactdn.com/wp-content/uploads/2020/11/The-Integra-Group_Full-Color-Logo.png
Chris.Darnell@bosslm.com
2023-02-20 08:14:25
2023-03-13 01:11:44
BOSS® Announces Winners of the 2022 Elevation Awards